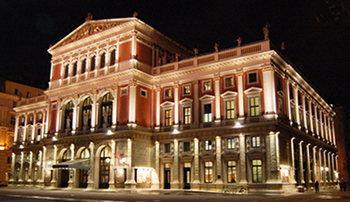 We are happy to introduce to you the VENIA Audition Academy and Promotion!
A few facts about our history:
1996 - foundation of the VENIA Ensemble for Viennese Music. The ensemble started as a women's orchestra but later diversified into a Schrammel Quartett, salon orchestra and other formations which greatly enhanced the repertoire and activity.
2001 - a CD production recorded in the big "Sophiensaal" in Vienna, a hall rich with musical history and very particular acoustic. The CD itself acquired an historical value as the last recording in this hall before it burned down in the summer of 2001.
2002-2004 - Tours to Italy and France.
Early 2013 - first ideas and drafts for the VENIA Audition Academy and Promotion.
The concept for the VENIA Audition Academy was crystallized in the summer of 2013.
The VENIA Audition Academy and Promotion was founded in December 2013.
Our activities encompass three major areas:
Audition Academy - organizes master classes for audition preparation.
VENIA Promotion - manages excellent artists and organizes events such as concerts and exhibitions among others.
Ensemble VENIA - is still actively playing and offers the ideal musical framework for different events. Projects to upgrade VENIA to a chamber or even symphony orchestra under the direction of Pablo Boggiano are in the works.
Find out the latest here.
We wish you good entertainment and look forward to your questions!